Really like this game? Share it!
Tetris jak gra logiczna: Twórz długie poziome lub pionowe linie z liniami na spadających klockach. Zrób linie o długości 3 lub więcej, aby je usunąć. Usuń tyle linii, ile wskazany cel, aby przejść do następnego poziomu. Dotknij bloku, aby go obrócić, dotknij kolumny, aby przesunąć blok i przesuń blok w dół. Możesz także użyć elementów sterujących po prawej stronie obszaru gry.
Users who played
Similar Games

Tapman
Klasyczna gra Pacman. Zjedz wszystkie żółte kropki i unikaj duchów.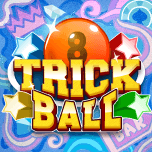 Trick Ball
Remove all balls from the table by colliding the same balls.

Bubble Trouble
Destroy the all the bubbles. Shoot and destroy the bubbles. Use the arrow keys to move and the space...